Sierra Nevada ski resort
Getting to
Sierra Nevada Ski Resort its 31 km away from Granada city.
In the following map you will find the recommended itinerary to Sierra Nevada.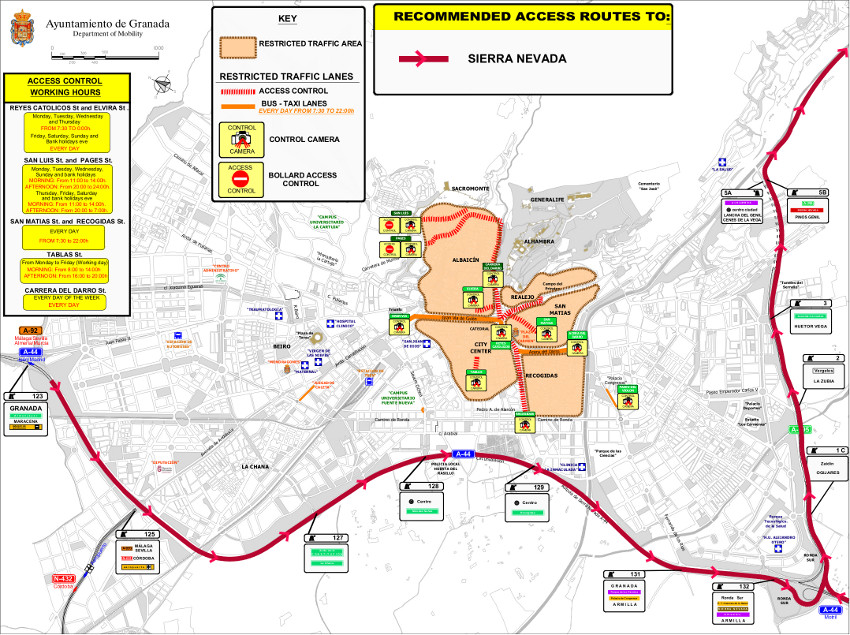 Clicking on the previous image you can download a detailed PDF with all the information, so you can print it or check it on detail.
Sierra Nevada ski resort
You don´t need to entry to Granada city to get to Sierra Nevada. The itinerary will be from A44 (motorway Bailén - Motril) get to A-395 (Ronda Sur). Continue along the motorway to the Serrallo tunnels, where you should follow the indications to Sierra Nevada, following the A-395 wich now became to a mountain road.
If you are inside the city with your private car, go to the closer motorway access, so it will be the easier way to get to the Ski Resort.
Suggestions
Before you get into the city center with your car:
Check your itinerary to your destination before using the car.
Check if you have to get through some access control point or bus lanes controlled by bollards or camera. If yes, ask if you can get through it or how to get an authorization.
Update the maps of your GPS navigator.
Get informed about your parking possibilities: on surface (a very limited parking places) or a public parking.
If you need more info, you can email us to cgim@movilidadgranada.com.
Map

Ver Sierra Nevada en un mapa más grande
Access by bus
From the Granada Bus Station departs several buses to the Ski Resort. Check timetables and more info at ALSA homepage.
During the ski season journeys between Ski Resort and Bus Station are reinforced. The rest of the year this journeys works but in a fewer frecuency.
The journey will take 45 min. aproximately.