City Center
Getting to
Granada has some traffic restrictions for individual transport (by car). In the following map you can see different recommended itineraries to get to the city center for visitors who arrive in their cars from A-44 (Motorway Bailen - Motril).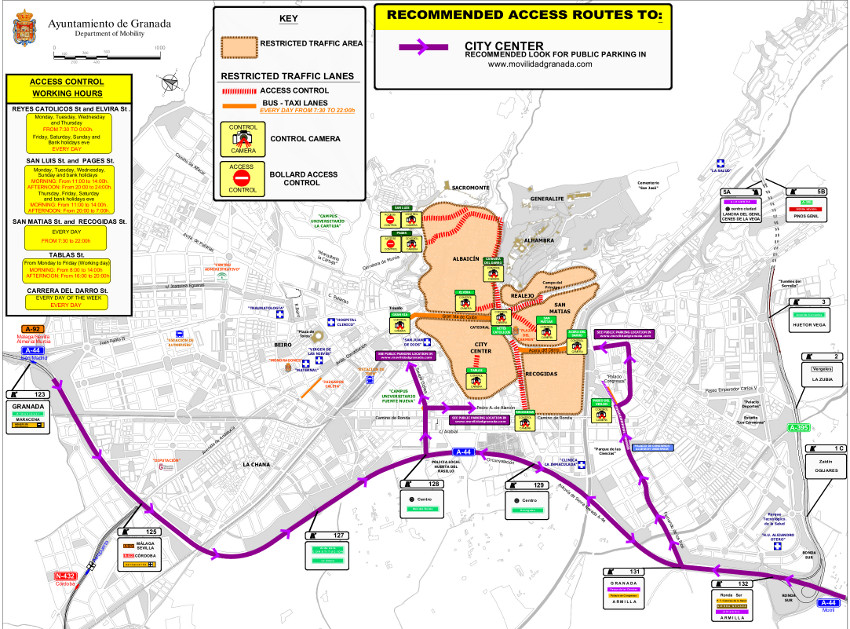 Clicking on the previous image you can download a detailed PDF with all the information, so you can print it or check it on detail.
City Center
In traffic and mobility terms, we consider the center of Granada the area between Méndez Núñez - Severo Ochoa axis, Camino de Ronda, River Genil and the Alhambra and Albaicín hills.
Granada city center has an special protection with prívate traffic because of its characteristics: limited parking places, and also streets width that conform it, because it is an historic centre has a few capacity roads. In the city center we find the main public transport line: 4 (Constitución avenue - Gran Vía - Reyes Católicos - Acera del Darro), that has an special consideration to improve public transport.
Suggestions
Before you get into the city center with your car:
Check your itinerary to your destination before using the car.
Check if you have to get through some access control point or bus lanes controlled by bollards or camera. If yes, ask if you can get through it or how to get an authorization.
Update the maps of your GPS navigator.
Get informed about your parking possibilities: on surface (a very limited parking places) or a public parking.
If you need more info, you can email us to cgim@movilidadgranada.com.
Map

See City Center of Granada in a larger map
Access by bus
The best suggestion is to park your car out the restricted area and use public transport to get your destination.
You can reach easily city centre by line 4 buses. You can get line 4 at PTS and Dilar avenue in southside or at Chana/Villarejo in North of the city.